TestBed and ITS Architecture
iTETRIS is aligned with the communication architecture defined by ETSI for Intelligent Transport Systems (ITS). The standard specifications concern a communication system designed for various types of traffic applications which can use several coexistent communication technologies. The architecture assumes three different actors communicating in an ITS scenario, each representing a given subsystem: vehicle, roadside and central subsystems.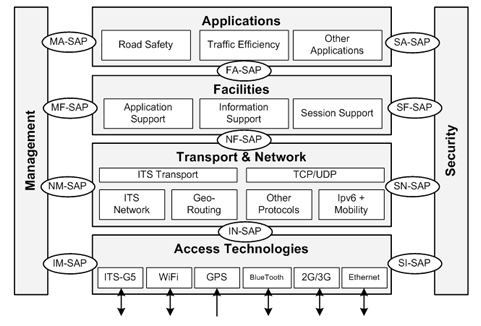 ITS Communication Architecture's Access Technologies layer reflects CALM's objective to allow seamless communication over several coexisting radio access technologies. The architecture therefore includes mechanisms to dynamically select the most appropriate communication technology to be used.
The Networking & Transport layer contains the different networking and transport protocols needed for a fully functional communication in an ITS scenario. Each networking protocol may be connected to a specific dedicated ITS transport protocol or to pre-existing transport layer protocols, e.g. UDP, TCP.
The ITS Facilities layer collects a set of common functionalities which are shared by several applications for various tasks. The facilities provide data structures to store, process and maintain data of different type and source. Facilities can be classified into "Application Support", "Information Support" and "Communication Support" facilities. The Applications layer contains the user applications exploiting the communication functionalities provided by the remaining part of the communication protocol stack. "Road Safety", "Traffic Efficiency", and sOther Applications" are defined.
The Management layer is a transversal layer handling cross-layer information exchange among the horizontal layers. The main functionalities implemented in this block include the dynamic selection of the access technology for a given application, the monitoring of communication interfaces' parameters, the management of transmission permissions and priorities, the management of services, and the implementation of congestion control mechanisms.
Finally, the Security layer is the block implementing security services for the communication protocol stack and the management layer.